Lucky Harvest Co., Ltd. "Probation Plan"
2020 Campus Special Job Fair
In order to better provide strong and powerful human resources support for the rapid development of our company, reserve technical, management and business talents in all fields and aspects for business development, accelerate the construction of talent echelon of various departments of the company, and introduce and cultivate a number of top-notch talents required by corporate development in a planned and targeted way, LUCKY intends to introduce excellent graduates from domestic well-known undergraduate and some great colleges and universities for training. We hope that you can offer an opportunity for us to select outstanding talents and as well as for students to join us, a splendid team also a great company.
Company profile
LUCKY, a high-tech enterprise, provides integration solutions of precision stamping tools and metal structural parts for customers. Headquarter is located in Chang' an, Dongguan and there are production bases in Guangzhou, Changshu, Tianjin and Ningbo. The products mainly are automobile stamping die, metal structure parts and outer parts used in automobile, office automation equipment and communication equipment. With years of experience in metal stamping die research and development and metal parts manufacturing, auto parts and molds produced in LUCKY are exported to Europe, America, Southeast Asia and so on, besides, they are widely used in BMW, Audi, Toyota, Land Rover, Citroen, Shanghai Volkswagen and other types of passenger cars.
Since the establishment of LUCKY, the products are renowned at home and exported all over the world with high reputation, advanced equipment, and perfect quality. LUCKY has passed ISO9001 quality management system, ISO14001 environment system and IATF16949 auto industry quality management system. In recent years, LUCKY has honored National High-tech Enterprise, Chinese Backbone Mold Enterprise and so on, in addition, LUCKY has set up strategic research cooperation relationship with many well-known colleges. At present, the company has had nearly 300 patents.
As a company in a period of rapid development, LUCKY has a greater dream. The company has always focused on technology research and development, personnel training, project development, brand building, internal management, policy incentives, and employee benefits. Through technological innovation, the company improves technical content of products, creates social value and a blue ocean of enterprise development driven by science and technology, and strives to realize the dream of building an international first-class enterprise. LUCKY is looking forward to probationers creating a bright future!
For more information of our company, please login and view: https://www.luckyharvest.cn/
Compensation benefit and office environment
1. Five social insurances and housing fund are purchased according to national requirements.
2. Accommodation: 4 to 6 general staff per dorm with air-conditioning, wardrobe, tables, chairs and hot water supplied the whole day; Living standard for managers is a single room, a complete set of appliances and furniture, which can carry immediate family members to live in; Providing working meals, and dinner with three courses and soup.
3. Rewards are mainly including proposal award, monthly excellent employee award, performance award, quarterly award, and year-end performance, meanwhile, at the end of the year, employees with special contributions can enjoy Employee Value Contribution Award in terms of their contribution value.
4. Recreational activities, also staff group activities, are regularly held such as birthday party, sports meeting, sightseeing, New Year party, year-end party with a car as the grand prize and so on.
5. Training and learning: LUCKY organizes regularly various professional skills training, team building, outsourcing training and traditional culture learning opportunities.
6. Internal college in LUCKY is cooperating with universities and colleges, which makes staff work and study to reeducate on academic qualification so that it can realize lifelong education of staff.
7. Skills qualification promotion: As the company builds a platform by connecting with government departments, effectively connects with Human Resources Bureau, through internal training of LUCKY, staff can participates in post appraisement, acquire enterprise skilled talent evaluation qualification certificate, and enjoy talent preferential policies.
8. Promotion opportunities: More than 85% of managers and technical posts in the company are promoted internally.
9. Treatment for managers: Monthly basic salary plus performance salary plus annual performance bonus plus stock option (in terms of post and rank).
LUCKY probation plan

(1) Recruitment requirements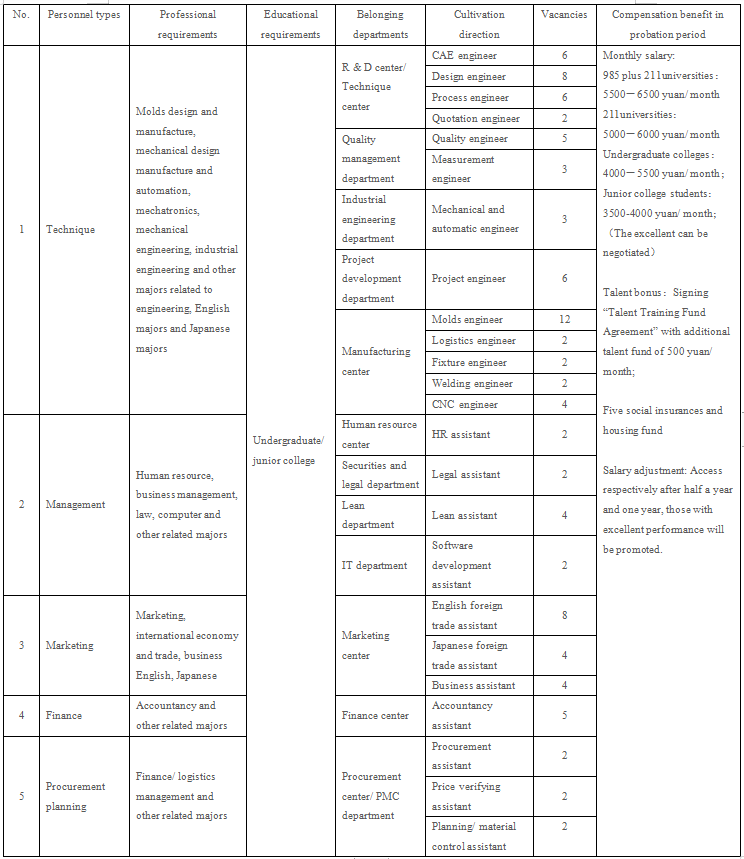 (2) Cultivation orientation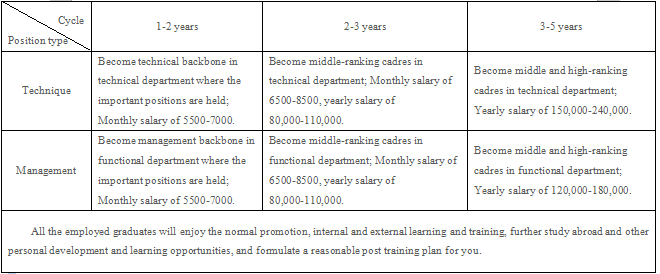 Recruitment methods/ requirements
1. Recruitment methods
j Submit your resume by e-mail.
Add: LHA027@luckyharvest.cn;
LHA031@luckyharvest.cn;
amity@luckyharvest.cn
k Submit your resume on site at career talk and job fair.
2. Recruitment requirements
j Personal resume (please stick one full-faced photo with color);
k Copies of ID card and other certificates related to honors and skills,
and the originals for further reference;
l Copiers of other materials (including thesis published, internship
report, etc. which can explain your performance in school)
Recruitment Contact/ Route of reaching LUCKY
1. Recruitment contact
LUCKY HR, recruitment and appointment department
Miss Zhao Recruitment charge
Tel: 13829137662 (the same as WeChat)
Miss Zhang Recruitment manager
Tel: 13829137689
2. Address of LUCKY headquarter
No. 893 Jian' an Road, Chang' an Town, Dongguan City, Guangdong
Province, China
Introduction of related pictures in LUCKY
Exterior of LUCKY headquarters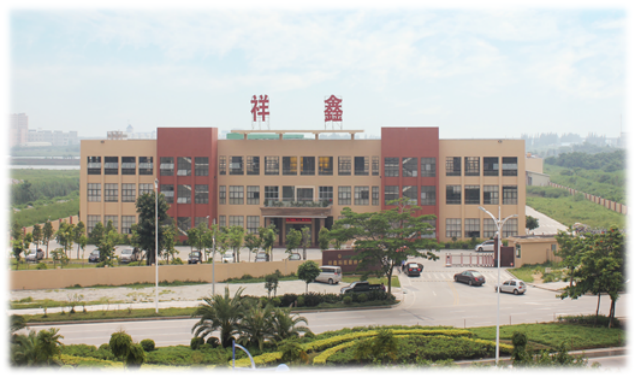 LUCKY distribution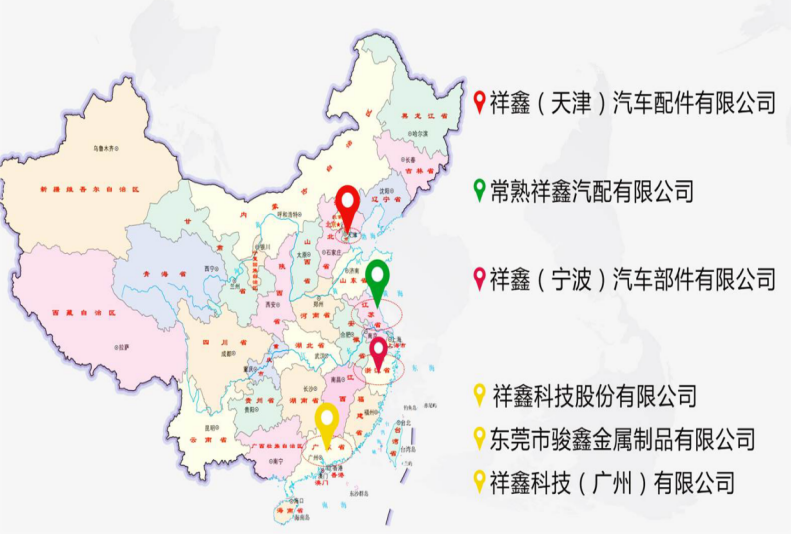 Learn and grow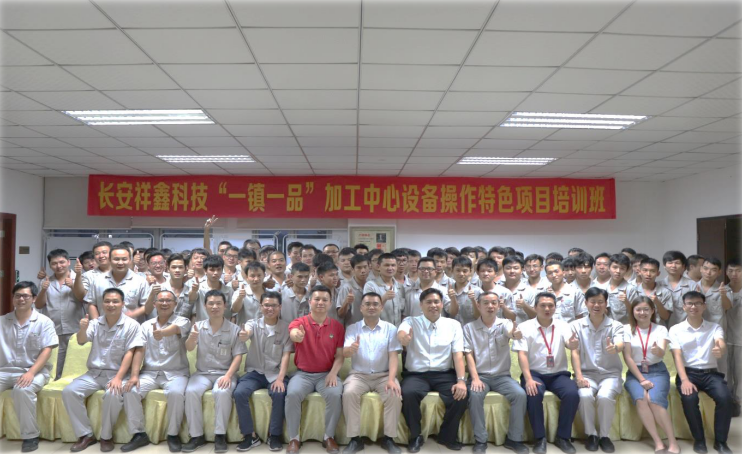 Smile culture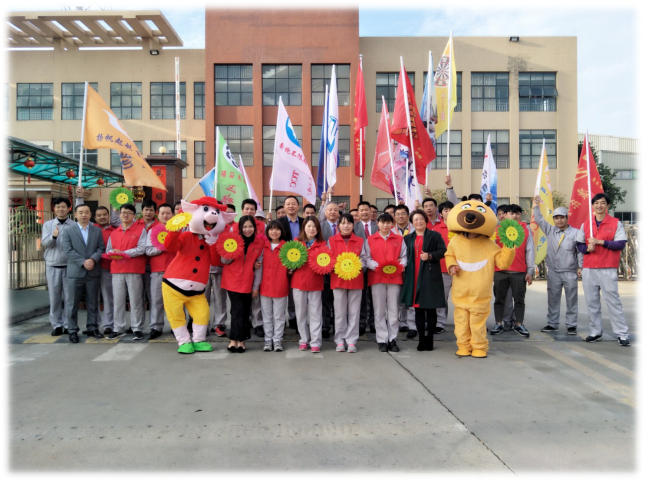 Annual tour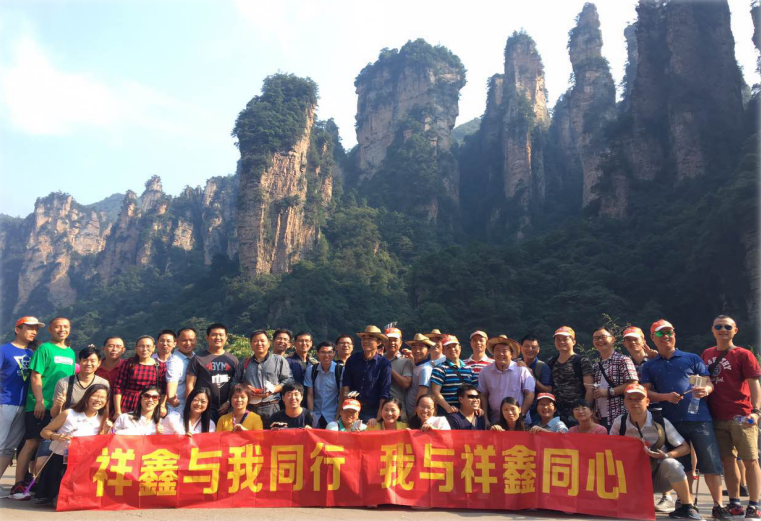 Annual lucky winner having a picture with President Chen